It is undeniable that a faucet is a must-have tool for every kitchen. It not only plays the role of rinsing food or dishware but enlightens your cooking area as well.
Countless faucet models have been released to the market, among which Moen vs Delta kitchen faucets is the most common hesitation.
In addition to some similarities in design and basic function, both items themselves show up differences in sensor usage or technical improvements. Let's surf our review to get more details.
Moen Faucet Overview
Moen – a leading brand in the US specializing in manufacturing accessories for kitchens and bathrooms. Its products, especially faucets, increasingly find their way into American households. The modern and luxurious look coupled with smartness explains this popularity.
Moen Albor is one of the most searched hand-free motion faucets in recent times. Besides sensitive infrared sensors, this model can detect the user's hand movements. Thanks to that, you can activate the faucet by 3 methods, including the gripping lever.
The faucet also offers different water modes such as spray or stream, serving particular purposes within one touch. In addition, you can also pull the faucet head to spray further areas in the sink owing to its retractable function.
Moen has launched four different finishes for its product: chrome, matte black, oiled-rubbed bronze, and spot resist stainless. You can choose the color that fits your kitchen theme.
Delta Faucet Overview

Another principal American faucet brand is Delta. Its product impresses customers with a stylish and familiar design. The company promises that even water flow can evoke sophistication for your kitchen.
Referring to Delta, we cannot ignore Delta Essa Touch Faucet with many remarkable improvements. Besides a hand touch, you can also use the traditional lever to let the water stream on.
An LED light indicating the water temperature has been carefully installed in the faucet's bottom. Therefore, you can adjust the temperature without fear of burns. More conveniently, it can also inform you of the battery replacement.
Besides, the Delta faucet allows you to use one of two water modes: spray and stream.
Cleaning is also more versatile than ever with magnetic docking and 360 Degree swivel. After rinsing the stains in the sink's corners or edges, release your hand, and the cock's head will firmly snap into the initial position.
Apart from matte black and chrome (like Moen Albor), Delta offers two other appearances, arctic stainless and Venetian bronze. Pick the one you are into!
Moen vs Delta Kitchen Faucets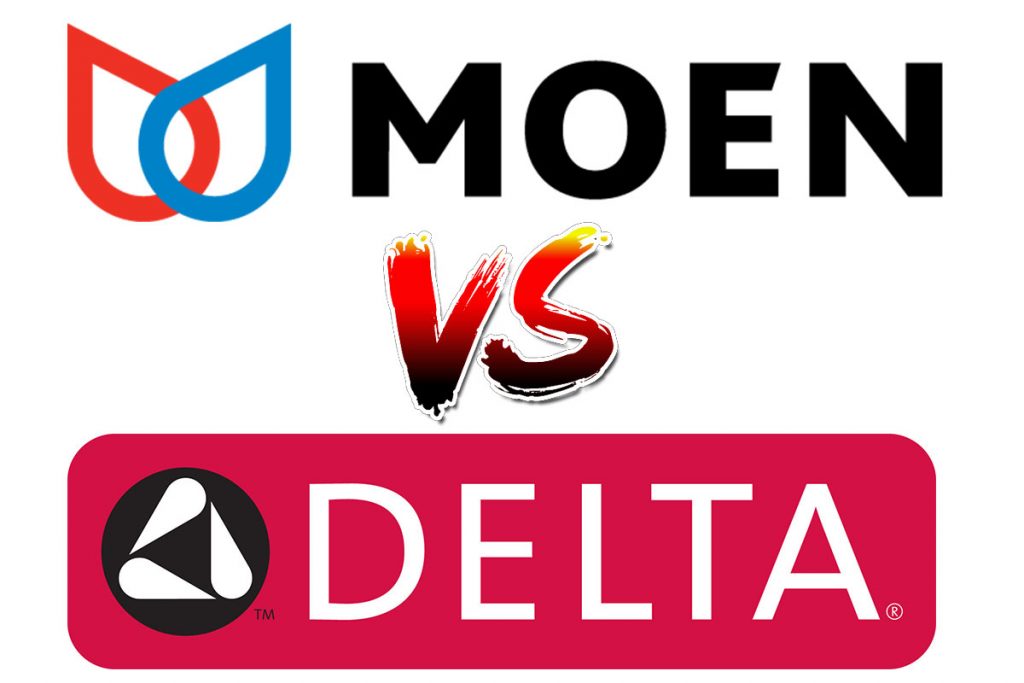 Touch and Touchless Operation
The most notable difference between the two products is their sensor's operation method.
For the Delta Touch Essa faucet, sensitive sensors work by the inner electricity from your body. After a touch, the sensor will receive and activate its operation. Then, it will release or stop the water.
Meanwhile, Moen Albor is somewhat more advanced with passive infrared sensors. This model works based on its detection of users' heat. The faucet activates water flow when it recognizes the heat spreading in the detection range. 
Especially, Moen has upgraded the product with double sensor devices. The nozzle not only senses the hand's appearance but also movements. In detail, slightly running your hand along the faucet body or waving your hands above it can also awaken the stream or vice versa.
Thus, usage can come in handy more. The operation makes Moen Albor seem more convenient and flexible as you can trigger it in different ways.
Carrying stacks of trays of dishware and can not turn on the devices on your own? It is not a problem anymore.
However, because the infrared sensor is quite sensitive, it can leak water accidentally when your mischievous kids wave their hands around or when pets lie in the sink.
Improved Technology
Understanding the user's preference for durability, Delta has engineered an exclusive technology called DIAMOND Seal. The faucet's valve integrates with a diamond-embedded ceramic disk.
Thanks to the tough and hard shell, the disc will battle metal erosion and minimize water leakage during operation. This improvement can preserve the water from bacteria or metal contamination.
The product's endurance seems to last twice compared to conventional ones. Plus, users can also believe in better purity.
In some cases, small children or pets accidentally hold the sensor faucet, or you directly clean it with your hands. These actions can unintentionally leak the water, causing inconvenience.
However, fortunately, this issue is resolved when you use Delta's item. The installed Touch20 technology is exactly the answer.
Distinguishing between touch and unconscious grip, the technology can release water at the right time while saving water.
Meanwhile, the Moen faucet focuses on updating water flow power via "Power technology". The power of spray or stream is 50% more powerful. As a result, besides cookware, washing fresh food like fish or meats is faster, more hygienic, and more efficient.
Spray Power
Delta Essa Touch's water jets are ready to remove stubborn food stains from dishes. Through thousands of tiny fountain holes, water jets are released in abundance along with power. 
Remarkably, most faucets are engineered WaterShield technology by Delta. Hence, water will not be splashed around when you do the cleansing procedure.
Moen faucet's water sprays act in another way. For Moen Albor, water jets appear in less quantity than that for Delta.
However, the spotlight is that the power of each water jet is updated up to 50% than the usual via the mentioned Power Clean technology. Thanks to this, the spraying efficiency is still preserved. This operation also reduces splashes and saves water more.
Cleanliness
The hygiene of both seems to be neck and neck. First, the two brands announced 4 finishes whose characteristics are resistant to stains, fingerprints, or easy to clean. Even better, you can limit contact with your stained fingers onto the faucets, preventing the penetration of bacteria.
However, in the end, Moen Albor somewhat wins the game since the percentage of direct contact accounts for only 0-1%. The faucet itself can maintain a shiny appearance without asking for frequent cleaning.
Conclusion
We believe that we have proposed the most objective comparison between Moen vs Delta kitchen faucets. To sum up, each product has its own outstanding features as well as disadvantages.
Choose Moen Albor if you have a lavish kitchen. It can also be a wise option for families with disabled members or full-time housewives. If you are a chief who is up to ears with food processing, let's add it to your to-buy list.
Delta Faucet is suitable for households with children or pets. The product's price is also more reasonable for middle-income customers with a modern lifestyle.
Carefully consider your needs and conditions, then purchase in the smartest way!