One of the things that can make your life easier is to add one of the proper bar sinks to your house.
A bar sink or utility sink is one of those things that you may not realize how essential it is to you until you use it.
If you're considering adding this sink to your kitchen or elsewhere in your home, read on until the end of this article.
Then, we'll help you choose the best one by helping you answer, What size bar sink should you buy?
What Size Bar Sink Should You Buy?
There is no best bar sink size for all situations. Instead, you need to consider many factors to decide what size bar sink you should choose.
You need to rely on the following factors to choose the size for your bar sink.
The Base Cabinet and Counter's Size
You likely need to mount the wet bar sink on your base cabinets. Your chosen bar sink should be smaller than your base cabinet, at least 7.5cm (3 inches).
You need to measure the base cabin's width and length and subtract 3 inches.
For example, if your cabin base is 30 x 15 inches, you should choose a bar sink about 27 x 12 inches or smaller.
The Available Space Between the Sink's Bottom and the Pipes' Top
Like any sink, the bar sink size should be based on the space available between your sink's bottom and pipes.
In particular, it is necessary to determine the depth of this space where you will install your sink.
You need to measure the pipes' height and your sink's depth and ensure there is enough space to place your new bar sink.
If your pipes are flexible, it will not be a big problem. But if you own metal pipes, checking out them is essential.
Storage Space in Your Base Cabinet
Considering some aspects, such as drawers or shelving units below the installation space, may interfere with placing your sink.
You should always avoid demolishing or cutting out precious storage space in the kitchen just because you chose the inappropriate depth sink.
Modifying the base cabinet will most likely void the warranty and might significantly compromise the support strength.
Redesigning or removing shelving units and cutting the base cabinet to generate more space for your oversized new sink is a no-no.
It can significantly increase your renovation budget, which you must avoid in any installation or renovation project. You need to consider the counter space!
You want to avoid letting your new sink take up all of your counter space as you need an area for your food prep space or stuff like the wine glasses, blender, and other kitchen tools.
If you have limited counter space, you should consider one of the smaller sinks or other solutions, such as putting the cutting board.
See more: Clean Your Kitchen Sink
Focus on the Uses of Your New Bar Sink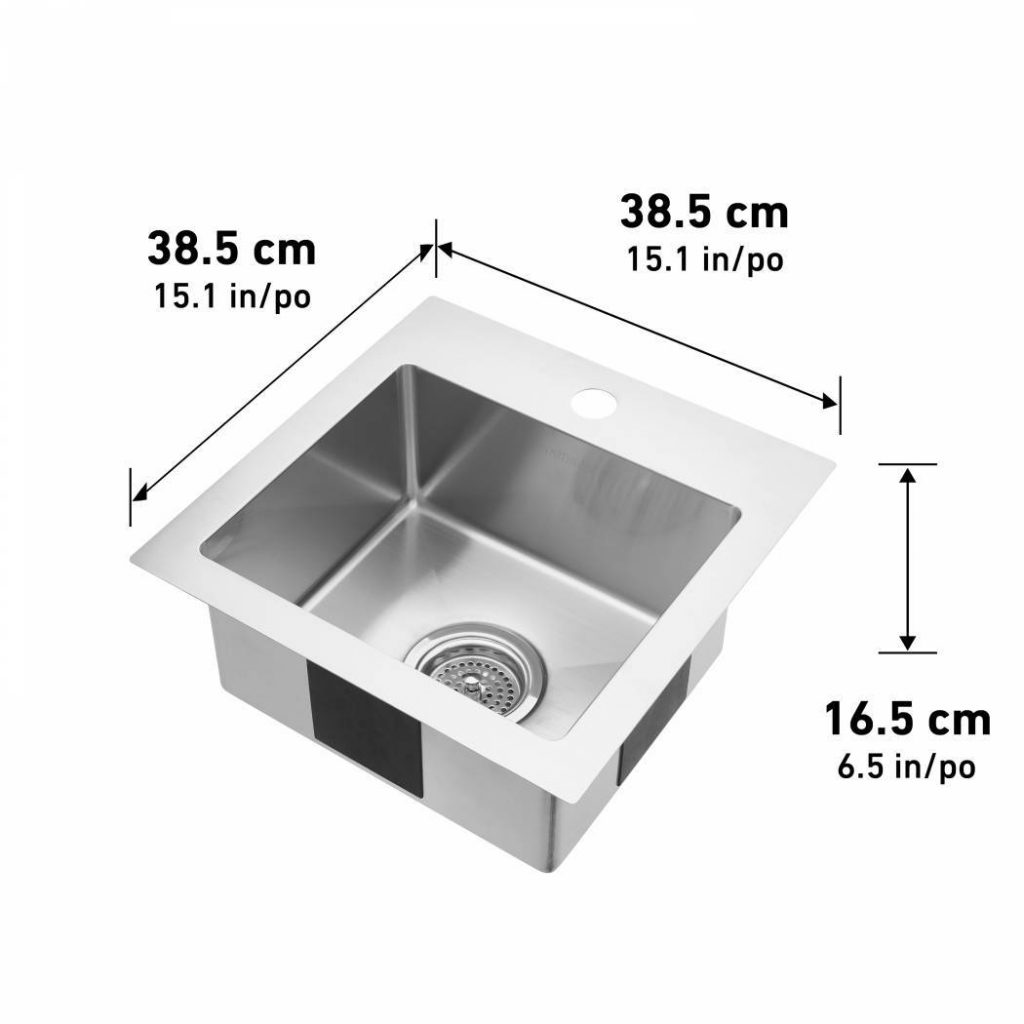 Last but not least, think twice about what you're going to do with your new sink before making a decision.
For instance, investing in a massive sink is unnecessary if you just need something that gives you access to water as one mixer for drinks.
On the other hand, if you want to use a bar sink to prepare vegetables, one larger sink is your best bet.
When determining how much room is reasonable, based on the main full-size sink in your kitchen, try what you prefer to do with your new prep sink.
It should give you a good idea about what size bar sink is right for you.
FAQs
What Shape Should I Consider for My New Bar Sink?
The square or rectangular bar sink will deliver the many utilities as they produce the most working space in their sink bowl.
Meanwhile, the oval or round prep sinks may deliver the same utility if they have cylindrical-shaped bowls.
Deep Sink and Shallow Sink: Which Is Better?
| | | |
| --- | --- | --- |
| | Deep Sink | Shallow Sink |
| Pros | Take up less room in your base cabinet, conserving counter space. Better ergonomics than the deep sink. | It is easier to wash tall wine glasses and larger dishes. The dirty dish is less visible. |
| Cons | Limit usability because of its smaller size. Create a messy look because dishes are more easily visible. | Poor ergonomics for any tall users, causing back pain.May have to compromise storage space to fit. |
The Bottom Line
Through this article, you can choose a bar sink that is the right size for your available space. Thank you for reading! See you again in other valuable articles.